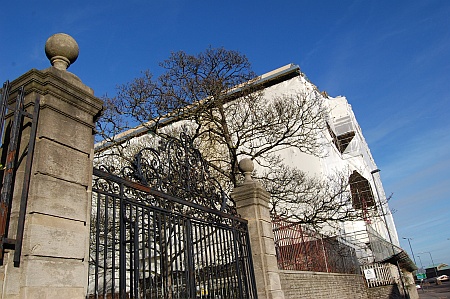 Plans to refurbish the historic Pegasus House, on the Airbus site in Filton, have been given the go-ahead by planners at South Gloucestershire Council (SGC).
The Grade II listed building, constructed in the 1930s, is currently covered by scaffolding and white sheeting but it will be restored to its former glory as part of a £70 million project to create a new research, design, manufacturing and assembly complex within the Airbus site.
The nearby 18th century Old Filton House will also be restored as part of the scheme, with 19th and 20th century additions being demolished.
Once the refurbishment is complete, Pegasus House will provide 3,600sqm of modern office accommodation for 450 staff including a café and a 350 seat auditorium.
Also included within the plans for the multi-million' Airbus Aerospace Park' is a new low-rise main office building that will house 2,300 staff.
Capita Symonds, the company appointed to manage project, previously said the work on Pegasus House would start in February 2012 and be completed in the second quarter of 2013.
Artist's impression of the view from Filton Roundabout: New office building on the left and the refurbished Pegasus House on the right.
Related links: