Posted on Tuesday 28th February 2012 at 9:03 pm by SH (Editor)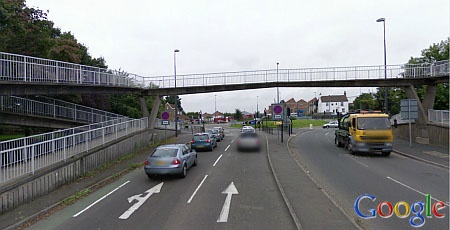 An extra lane could be added to the A4174 Avon Ring Road on its westbound approach to Filton Roundabout if plans being drawn up by South Gloucestershire Council (SGC) come to fruition.
Outline details of the proposed scheme are revealed in a letter from an SGC Transport Engineer to Filton Town Council, published as part of the agenda pack for tonight's Full Council meeting.
In the letter, Principal Engineer Mark Shearman writes:
"The scheme provides us with an opportunity to address congestion on the Ring Road approach to Filton Roundabout, upgrade the traffic signals to a more efficient system and improve facilities for cyclists."
A drawing attached to letter shows a new "third" traffic lane on land that was previously occupied by ramps of the recently-demolished pedestrian bridge over the Ring Road near Brewer's Fayre.
SGC has asked Filton Town Council if it would be prepared to "contribute" a strip of land that is currently in its ownership but would be required to form a new footway.
Mr Shearman concedes that "valuable trees and hedge[s]" would need to be sacrificed but says that the impact on the local environment would be minimised by "providing replacement landscaping planting."
The scheme would be funded by Section 106 contributions from the Southmead Hospital development, on the grounds that it is needed to provided extra capacity at the junction to reduce the impact of traffic generated by the Hospital development.
Mr Shearman adds that it is hoped that the scheme will:
"… reduce delays at Filton Roundabout, resulting in shorter queues that will deliver reduced journey time and, most importantly, environmental benfits for Filton residents."
Related link: Town Council meeting agenda (part 4)