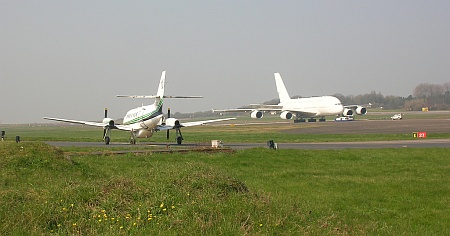 Engineers at the Airbus design centre in Filton are being blamed for the "grounding" of all 69 A380 aircraft currently in service.
A report in today's Daily Mail says Airbus has now traced the cause of small cracks developing on the wings of some of the £250million double-decker A380s to a small component engineered in Filton.
The manufacturer has been forced to order a global reacall fix for the offending aluminium brackets which hold the wing's skin to the structure.
The minor cracks – no more than two centimetres long – were discovered after Qantas ordered a fleet-wide inspection following the explosion of a Rolls-Royce engine during a flight, last year.
Airbus has insisted there is no threat to safety posed by the flaw and safety agencies on both sides of the Atlantic have given the planes the all clear to continue flights.
But Airbus is bringing in the aircraft for the fix after about 1,300 flights when the enormous stress of thousands of hours of airtime start to exacerbate the problem.
An Airbus spokesperson told the paper:
'We are not commenting on individual sites and areas. Everyone in the company is absolutely focussed on resolving the issue."
Read more: Wing cracks in £250million A380 superjumbos that grounded entire fleet blamed on British engineering
Photo: First landing of the Airbus A380 at Filton Airfield. [Photo by Rob Brewer (rbwr on flickr); Licence: CC BY-SA 2.0]