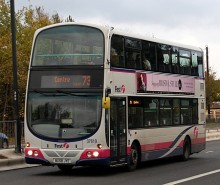 Bus services on the A38 Filton Road are set to benefit from a share of a £5 million Government grant awarded to the Greater Bristol area today.
The West of England Partnership has been given £4,986,000 to fund a set of schemes intended to boost growth, improve partnerships with bus companies and increase bus passenger numbers.
Some of the money will be used to install new traffic control equipment at the junction of Filton Road and Monks Park Avenue (described as a "key delay hotspot") to give buses dynamic priority.
Other benefits of the scheme to upgrade the 75/76 Hengrove to Cribbs Causeway route to "Greater Bristol Bus Network standard" include:
Extra bus shelter sites and replacement at more heavily used stops
Real Time Passenger Information (12 displays at more heavily used stops in the North Fringe)
On-bus units to expand RTPI coverage to all services on the corridor
Network wide improvements within the West of England area will see 230 buses equipped with WiFi in order to improve the attractiveness of bus services on key corridors.
Announcing today's awards, Transport Minister Norman Baker said:
"This funding means a better deal for passengers and encourages more people to travel by bus. It updates and improves services and infrastructure, reduces congestion, gives quieter journeys and with the introduction of new carbon friendly buses, reduces fuel costs and CO2 emissions, creating a greener network."
More information and related links: