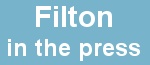 Filton Town Council has voted to introduce charges for the boules court and cycle speedway track in Elm Park, reports the Bristol Evening Post.
An extraordinary meeting of the Council, held half-an-hour before last night's scheduled regular meeting, considered a proposal from Cllr Teml that users of the boules court be charged £2.50 per person, with £3 per person being asked for cycle speedway practice sessions.
Filton Leisure Centre Manager Lisa Timbrell recommended the Council charge at least £4.20 per person for two hours on the boules courts and charge £15.40 per hour for group bookings of the cycle speedway track.
The meeting had been called following claims that the lack of a charging structure was due to some Labour councillors' interests in the two sports, including South Gloucestershire ward councillor for Filton, Roger Hutchinson.
The meeting agreed to charge individuals £1.10 per hour for using the speedway track. Group bookings, including cycle speedway events, will be charged at £15.40 per hour, with all day bookings being charged at £123.20.
Boules players will be charged according the number of players taking part: two players will be charged £4.20 each, four players £4 each and six players £3.80 each.
Read more: Fees introduced on boules court and speedway track in Filton