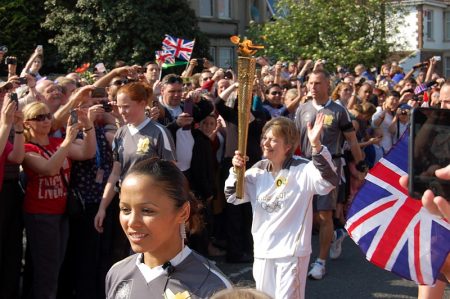 Thousands of people lined Southmead Road in Filton earlier today to greet the London 2012 Olympic Torch Relay on day 5 of its 70-day journey around the United Kingdom.
Warm and sunny weather attracted a massive crowd, swelled by children from local schools and workers from the nearby Airbus factory who had been given time off for the occasion.
The torch, preceded by a convoy of sponsor vehicles crossed into South Gloucestershire at about 9:18am, 13 minutes behind schedule, after it had lost time by taking a wrong turning in North Somerset earlier in the morning.
Good-natured crowds, up to five deep in places, lined the route and people surged out into the road as the convoy approached.
The torch was carried into Filton by 58-year-old Corinne Day, nominated for her work as a Guide leader in Bristol.
On reaching the junction with Charborough Road, the Torch Relay continued "in convoy" to Chippenham after which it will visit Marlborough, Royal Wooton Basset, Swindon, Cirencester and Stroud before arriving at Cheltenham Racecourse for an evening celebration.
Click on the image above for lots more photos of the Olympic Torch Relay passing through Filton.