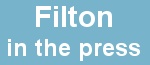 Filton Town Councillor Bill Moore has quit the local Labour group after claiming to have been bullied by a fellow Labour Councillor, reports The Post.
Cllr Moore was re-elected as Chair of the Council's Finance Committee on Tuesday night but then announced he was resigning from the Labour group with immediate effect.
According to The Post, Cllr Moore claimed this was due to private discussions about residents and town council matters taking place at Labour party meetings, that were not minuted or recorded.
Reports of bullying first emerged in a story posted by mystery contributor PhilTonne on The Post's discussion board on Wednesday, in which Cllr Moore was quoted as saying:
"I was also accused of doing something by a Labour Councillor that I did not do and was left to defend myself at a branch meeting without the Chairman, Councillor Brian Mead, intervening. It amounted to bullying, which I will not be party to."
Today's Post article quotes an anonymous Filton resident as saying it was "well- known around town" that Mr Moore was referring to South Gloucestershire Councillor Roger Hutchinson, a former Chair of the Town Council.
Mr Moore told The Post he did not want to elaborate on the matter but said he would still be serving as a Labour member of the Town Council, despite not being a member of the Labour group.
Read more: Filton councillor Bill Moore quits Labour group amid bullying row