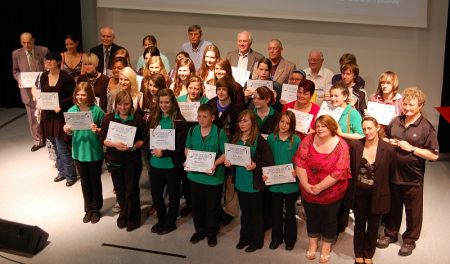 Volunteers working within the Filton community were honoured at an 'Unsung Heroes' awards ceremony held at Abbeywood School earlier this week.
Organised by the Community Lead Group for Filton, the event recognised the hard work, determination and ambition shown by people who dedicate a large part of their life to the local community.
A record number of 147 nominations had been received since entries opened back in April – across the four categories: 'group', 'project', 'individual over 18' and 'individual under 18'.
The winners were presented with their awards by Robert Walsh, Head of Safer, Stronger Communities at South Gloucestershire Council, and Cllr Adam Monk, Chair of Filton Town Council.
The judges reported that they were so impressed with the quality of the entries that they decided to presented every nominee with a certificate of recognition.
Abbeywood Community School students played a big part in the event, with the school's choir, drama group and individual musicians and singers providing entertainment breaks between announcements of the award winners.
And the winners were …
'Project' award: Viewpoint Action Group
'Group' award: Silver Surfers
'Individual over 18' award: Alison Finn (Abbeywood School)
'Individual over 18' award: James Sun (St Andrew's Youth Club)
More photos  from the event on PicasaWeb (The Journal)
More about each of the about the 'unsung heroes' award winners
(Nomination statements and judges' comments)
The Silver Surfers volunteers are: Andy Chubb, Charmaine Meechan, Chris Hawkins, Katy Cranney, Lorraine Grant, Mike Cassons, Sally Kneebone, Shaun Gleed and Lisa Smith.
This group of wonderful people has supported over 40 'silver-haired folk' to access computers and the world wide web over the past two years and are extremely patient, kind and helpful. The group is as much about social support now as it is about learning and the volunteers are friendly and supportive of anyone that comes along.
The Viewpoint Action Group volunteers are: Donna Burgess, Maggie Harris, Sally Kneebone and Michelle Glover. They were nominated for working together to make life at Church View flats a more enjoyable place for the children living in the four blocks. They have sourced funding from the Big Lottery Fund to build a play area for the children and young people at Filton Flats.
Alison Finn is one of the most proactive parent governors we have ever come across and she has received several nominations. Her commitment goes well beyond attendance at meetings and membership of interview panels. Alison is willing to represent Abbeywood at any opportunity to promote the school – she is a genuine champion of our school community. However, she also challenges us to ensure we are making the very best provision for our students. She actively encourages other parents to get involved with the school, thereby promoting our vision of a close school/parent partnership.
Alison also works as a most effective mentor and coach providing one-to-one and small group support to vulnerable young people. She invests time (even though she is such a busy person) and energy into supporting them and raising their self esteem.
James Sun (18)  has volunteered at St Andrews Youth Club for 18 months, working with youth club members with learning difficulties, and is an extremely patient, calm, and dedicated young man. He's helped to organise games and sports and supported young people using the computers. He is a great role model! He's off to university this year to study with a view to becoming a doctor – an excellent one he will make – and everyone at St Andrews Youth Club will miss him terribly!
Two further nominees were singled out for "special acknowledgement" by the judges: the Anti-Trafficking Group (formed of year 12 girls at Abbeywood Community School) and Grace Browning (under 18, for dealing with a real life emergency in a calm and effective manner).
Photo: Abbeywood Community School Choir gets the event underway.