Posted on Friday 28th September 2012 at 4:48 pm by SH (Editor)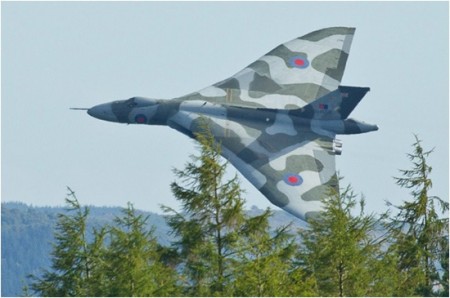 One of the most iconic British aircraft ever built is due to fly over North Bristol tomorrow (Saturday 29th September).
The last airworthy Vulcan bomber will fly over the airfield as part of a three-hour flight to celebrate the aircraft's 60th anniversary.
The Vulcan to the Sky Trust, which owns and operates the aircraft, has planned the tour to pass over locations that played a significant role in the development or servicing of the Vulcan.
Subject to weather conditions and aircraft serviceability, Vulcan XH558 will take off from Doncaster at 3pm and follow a route that takes in Bitteswell, Coventry Airport Birmingham Airport, RAF Cosford, Gloucester (Staverton) – Cheltenham, Filton, Cardiff Airport, St. Athan, Ross-on-Wye (Memorial) and RAF Halton.
A statement on the trust's website reads:
"Information on how the sortie is progressing will be made available on our official Twitter feed (@XH558), providing actual route and expected timings. If you wish to see XH558 on Saturday, the advice at this stage is to be near one of the listed locations from about 3pm watching the Twitter feed on your mobile."
The Vulcan first flew in August 1952 and was operated by the RAF until 1984. Its Olympus engines were developed by Bristol Aero Engines, which merged with Armstrong Siddeley in 1959 to form Bristol Siddeley – which in turn was taken over by Rolls-Royce in 1966.
During the Cuban Missile Crisis, a number of Vulcan bombers were stationed at Filton Airfield.
Tags: aircraft, Filton Airfield