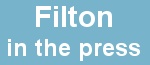 A transport campaign group is calling for a Filton bus lane to be scrapped, claiming the move would cut congestion and make buses more reliable.
The bus lane on the northbound side of Filton Avenue on the approach to Station Road (A4174) was installed three years ago by South Gloucestershire Council (SGC) as part of the £70 million Greater Bristol Bus Network project.
The Transport for Greater Bristol Alliance is calling for a rail and bus interchange to be constructed at Filton Abbey Wood railway station and says buses could avoid the busy Ring Road junction by cutting down Nutfield Grove to reach the railway station.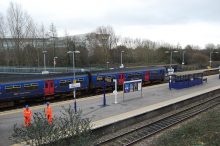 Filton Abbey Wood station, in Emma Chris Way, is currently served by just one bus an hour (the 581 Chipping Sodbury to Hanham service).
A spokesperson for the campaign group has told the Bristol Post that reverting Filton Avenue to two lanes would benefit both motorists and public transport users.
Residents and shopkeepers say the lane is a waste of time and money, adds the paper.
A spokesperson for SGC said the Council aspired to have more buses serving Filton Abbey Wood station but removing the bus lane would not automatically allow this to happen.
Read more: Scrap Filton Avenue bus lane, say transport campaigners
Related link: Bus Services in Filton (The Journal)