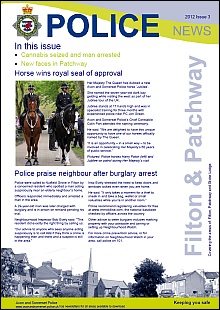 A 20-year-old Filton man has been given a three-year community order by magistrates after being convicted of indecent exposure.
Details of the case are revealed in the latest issue of the Filton & Patchway police newsletter, available online and from local community centres.
The man was arrested under Operation Relentless after reports of a male exposing himself to passers-by in College Way Filton, on three occasions.
Northavon Magistrates convicted him of three counts of indecent exposure. In August, he was ordered to participate in a 60-day rehabilitation programme and carry out 100 hours of unpaid work within the next 12 months. He will be supervised and will also be required to register with the police for the next five years.
Another article in the newsletter praises a local resident for alerting police to a man acting suspiciously in Nutfield Grove (we reported in July). A 29-year-old man was later charged with burglary.
Other updates include the news that a 24-year-old man arrested in August for growing 100 suspected cannabis plants at a house in Mortimer Way has been remanded in custody pending a crown court trial.
Finally, a man aged 28 has been convicted of driving offences after being spotted on a stolen motorbike by a Filton PCSO. Natalie Negravi was off duty in Bristol when she saw the former Filton resident riding a Suzuki motorbike. She immediately alerted police colleagues and the man was arrested. The bike and a helmet were recovered nearby, and the Suzuki was found to have been stolen from Fishponds. The man was found guilty of driving without the owner's consent, driving whilst disqualified, driving without a licence and driving with no insurance and remains on conditional court bail pending sentence.
Read more: Filton & Patchway Police Newsletter, 2012 Issue 3 [PDF, 555kB]
Related link: Police in Filton (The Journal)