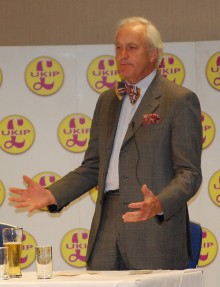 A cross party public meeting has been called by the Filton and Bradley Stoke (FABS) branch of UKIP to discuss the impending closure of Filton Airfield and the wider implications for the communities of the area.
The meeting will take place at Filton Community Centre, Elm Park, this Friday (2nd November) at 7:30pm.
A press release put out today by Cllr Ben Walker (UKIP member for Bradley Stoke North on South Gloucestershire Council) says the local party branch recognises the importance of the airfield, both nationally and locally.
The meeting has been organised because UKIP believes "more support needs to be generated to stop the airfield's closure for yet more housing in an already saturated locality".
Speaking at a residents' meeting in Filton today, Cllr Ben Walker said:
"This area has been grossly let down by its South Gloucestershire elected representatives and MP."

"Building houses is short term growth. Employing and investing in a skilled tradesperson grows both the local and national economies and supports that person for years, along with their family."

"Closing the airfield will result in a loss of employment, heritage and national defence capability. Your elected representatives are pawning our children's futures."
All members of the public are encouraged to attend the meeting and share their views as, according to UKIP, "the potential development of thousands of houses on the airfield site will not only result in a loss of industry, it will also force further traffic issues onto our already congested local roads".
The meeting will be supported by Cllr Ben Walker, Neil Hamilton (UKIP National Executive Committee), Mr Alan Tink, Cllr Adam Monk (Chair of Filton Town Council), the Save Filton Airfield Campaign, Cllr Doug Daniels (Filton Town Council), Mr Tim Shawland and several former BAE employees.
Photo: Neil Hamilton addresses a UKIP meeting at the Aztec Hotel in Bristol [Photo: ©Bradley Stoke Journal]
Related link: Cribbs/Patchway New Neighbourhood (Patchway Journal)