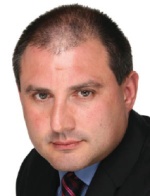 Filton and Bradley Stoke MP Jack Lopresti says he supports, "in theory", calls from a local union activist for improved facilities at Filton Abbey Wood railway station.
Responding to a recent letter in the Bristol Post, in which rail union member Dave Wood called for the station to made into a rail and bus interchange and for a park and ride facility to be constructed at the nearby Abbey Wood Retail Park, Mr Lopresti says he has already been in touch with Councillors and Government Ministers on the matter.
Mr Lopresti told The Journal:
"I am, of course, supportive of improving transport infrastructure for Filton residents, like myself, and have previously informed Mr Wood that I will look into the specifics of a rail and bus interchange at Filton Abbey Wood, and get back to him once the practicalities of such a move have been established."

"To this end, I have been in touch with local Councillors, and South Gloucestershire Council (SGC) to flesh out the practicalities of a rail and bus interchange, as well as a park and ride. Therefore whilst I do appreciate Mr Wood's calls, and support the ideas in theory, it would be irresponsible for SGC to plough ahead when there are practical issues which still need to be addressed."
The MP added that he has written to Ministers and raised questions in Parliament regarding what the Government can do to support improvements in local infrastructure and says he will "continue to apply pressure wherever I can in order to secure the very best deal for transport and infrastructure in our local area".
On a related matter, Mr Lopresti said he is pleased that the Department for Transport has agreed to carry out a feasibility study into the benefits and costs of having a full Henbury Loop line (rather than the 'spur' that is currently proposed), which would bring "huge benefits for the local rail infrastructure in north Bristol".
Related link: Public Transport in Filton (The Journal)