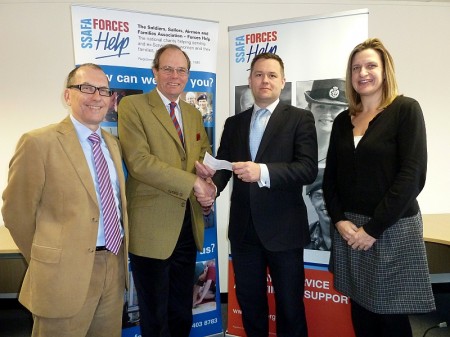 Generous employees at BAE Systems (Filton) have raised £2,100 towards the activities of the Avon and Severnside Branch of the Soldiers', Sailors' and Airmens' Families Association (SSAFA) Forces Help.
The money was raised through several fundraising events under the charity challenge partnership whereby employees' efforts are matched by their company's contribution to their chosen charity.
Charity donations came from all sections of BAE staff working at the Filton site and Andrew Easton, BAE Systems site lead in their Defence Information Team said:
"Our workforce and the information team really enjoyed the activities over the last two years, knowing that the work SSAFA does is so vital for the families and loved ones across the Armed Forces community."
James Orme, SSAFA's local Branch chairman said:
"BAE Systems and its workforce have been inspirational in their giving and we are very grateful for this cheque which represents the company's matched donation to our funds. In times of economic drawback we have been greatly heartened at the scale of their kindness."
Photo (L-R): Barry Horne (SSAFA Branch Secretary), James Orme (SSAFA Branch Chairman), Andrew Easton (BAE Systems Filton site leader Defence Information Team) and Pippa Dann-Ward (BAE Systems site charity coordinator).