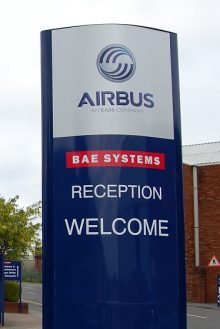 Global aerospace and defence firms with bases in Filton have posted mixed financial results over the past fortnight.
BAE Systems reported a 6.4% drop in earnings before interest and tax to £1.895 billion, which was lower than market predictions.
The company, which was recently planning to merge with Airbus parent firm EADS, said defence cuts in Europe and the US had led to a fall in profits.
In the UK, the defence market has stabilised following changes to programme priorities outlined in 2010 through the UK government's Strategic Defence and Security Review, says the company.
Meanwhile, EADS itself reported a 19% rise in net profit for 2012, with revenues rising 15% to €56.48bn.
Its Airbus division, which employs more than 4,000 staff in Filton, reported a 17% increase in revenue to €38.6bn (£33.4bn) for the year to 31st December 2012 – up from €33.1bn (£28.7bn) last year.
Engineers at Filton were last year blamed for a design fault on the wings of the A380 passenger aircraft that is costing the company hundreds of millions of euros to fix.
Continued delays in the programme to build its new A350 aircraft could impact profits next year, warn analysts.
Finally, GKN, whose Aerospace division has factories at Filton and Ester Compton, yesterday revealed record profits – but predicted a difficult start to 2013 as demand in Europe declines.
The manufacturer saw a 19% leap in pre-tax profit to £497 million in its full year results for 2012, up from £417 million.
Last year, GKN purchased the aerospace components arm of Swedish industrial group Volvo.