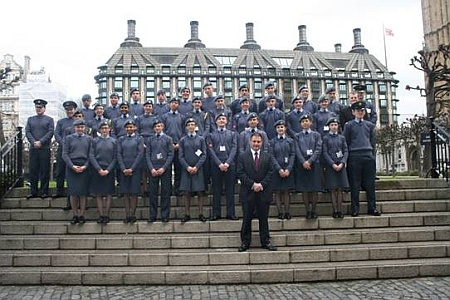 Cadets from 2152 (North Bristol) Squadron were recently welcomed to Parliament by Jack Lopresti, the MP for Filton and Bradley Stoke.
The Squadron, based in Filton, were invited to Westminster by the MP to celebrate after their Drill team won the National Drill Champions at RAF Halton in November last year.
The cadets were treated to a tour of the Houses of Parliament and views of the terrace before departing for a trip to RAF Hendon.
Mr Lopresti said:
"It was a real pleasure to host 2152 Squadron ATC at the Houses of Parliament. All the cadets looked very smart indeed and I can see why they were the deserved winners of the National Drill Champions. Many congratulations to them all again."
Flt Lt Jim Brimble, the Officer Commanding for 2152 (N. Bristol) Sqn ATC, said:
"The cadets found the morning fascinating and enjoyable – they all appreciated the effort made in hosting them and learning more about the role of the both Houses of Parliament. An amazing experience, being able to talk to our local MP in such relaxed, yet historic surroundings."