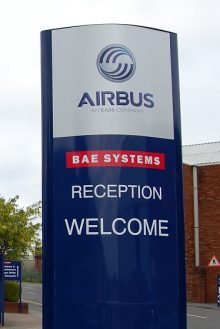 The parent company of Airbus, EADS, has reported a sharp rise in profits for the first three months of the year.
Operating profits at the company rose by 56% to €741 million over the quarter, helped by higher production at Airbus, where revenue climbed by 16%.
Airbus said it had delivered 144 aircraft between January and March, up from 131 in the same three months last year.
Overall, EADS reported revenue of €12.4 billion for the period compared with €11.4 billion for 2012.
EADS CEO Tom Enders said:
"The quarter was an eventful one for EADS, with shareholders approving the new governance structure while the share buyback programme is progressing and the free-float has risen significantly."

"On the operational side, we had a rather good start into 2013 with improved revenues and profitability. Management continues to focus on improving the bottom line performance in 2013 and beyond."
In other news, Airbus looks to be on target for the maiden flight of its A350 XWB aircraft this summer.
The wings and fuel systems for the new long-range wide-bodied airliner were designed in Filton, where the landing gear is also tested.
The first A350 XWB (designated MSN001) emerged from its hangar in Toulouse yesterday after being painted in its Airbus livery within the space of just just seven days.
An Airbus press release stated:
"This latest milestone shows that MSN001 is progressing well on its route to first flight."

"The aircraft painting was achieved in less than seven days and follows the recent completion of MSN001's flight-test-instrumentation (FTI) verification. Last month the aircraft underwent its engines installation, and passed a subsequent intensive phase of ground vibration tests. MSN001 will soon start the final tests before its maiden flight this summer."
Photo: An A350 XWB shows off its new Airbus livery in Toulouse, France. [© Airbus S.A.S 2013; photo by P. Pigeyre]