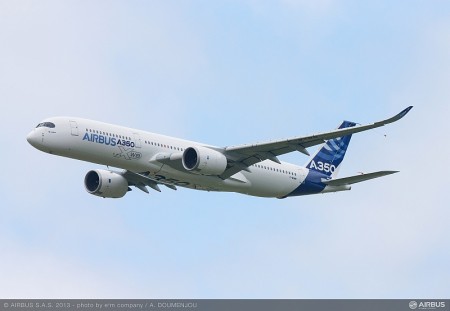 Airbus, which employs 4,000 people at its site in Filton, is celebrating some notable technical and commercial successes achieved over the past fortnight.
The purple patch began on 14th June when workers witnessed the successful first flight of the company's A350 XWB aircraft, shown live from Toulouse on screens at the Filton factory.
The A350 XWB is a mid-size long range product line comprising three versions and seating between 270 and 350 passengers in spacious three-class layouts. Airbus claims that the new family will bring a step change in efficiency compared with existing aircraft in this size category, using 25% less fuel and providing an equivalent reduction in CO2 emissions.
In addition to its own direct operations at Filton, Airbus's activities help support thousands more jobs across Bristol and the wider area. Around 900 people have worked on the A350, which will be one of the first planes to be made almost entirely from carbon composite materials.
The good news continued on the first day of last week's Paris Airshow, when Airbus finished the day with firm orders of £11.6 billion, compared with rival Boeing's £3.87 billion. The first big announcement was for an order of 20 A380 superjumbos from leasing company Doric, worth an estimated £5 billion, followed by an order for 100 medium-range Airbus A320 aircraft from Lufthansa.
Airbus finished the show having won £44.7 billion worth of business for a total of 466 aircraft, comprising firm purchase orders for 241 aircraft and Memoranda of Understanding (MoU) for the remainder.