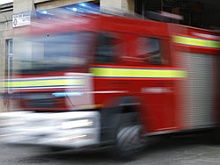 Residents of between 20 and 30 homes in the Eighth Avenue area of Filton had to be evacuated on Friday evening (6th September) after gas cylinders were placed on a bonfire.
Avon Fire & Rescue Service reports that an oxygen cylinder and an acetylene cylinder had been placed on the fire.
Crews from Southmead and Patchway fire stations were called to the scene after being contacted by local residents who were concerned about gas escaping and the size of the flames.
On arrival, firefighters found the bonfire was close to a high-voltage transformer on a telegraph pole.
A spokesman for the service said:
"Due to the fire and potential risk of explosion from the cylinder, both fire and police personnel were involved in an immediate evacuation of the area."
The fire was brought under control and firefighters remained at the scene for around three hours to ensure the cylinders were safe.