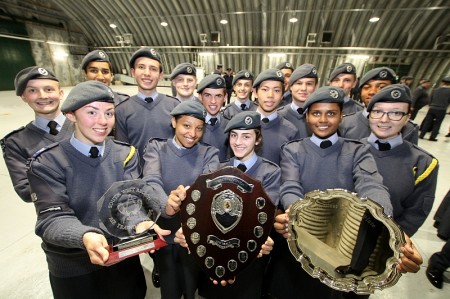 2014 is a special year in the history of 2152 (North Bristol) Squadron, as they will be celebrating the 70th Anniversary of the founding of their unit.
In this anniversary year, the unit located at Pine Grove in Filton is looking for new members, so if you are you up for fun, adventure, incredible experiences, making new friends, are aged between 13 & 17 years and are looking for something to give you the edge in life, then why not give them a try?
Better known as the 'Air Cadets', they're part of a UK-wide cadet force with more than 40,000 members that is sponsored by the Royal Air Force and can give you hands-on experience of activities and courses that will challenge and develop your skills to help you succeed in whatever you want to do. Cadet life is about learning through practical experience, especially in the great outdoors! As a cadet, you'll get the chance to do things that others can only dream about, such as flying, gliding, camps at RAF bases in the UK and overseas, as well as adventurous training.
In the past year, the cadets from Filton – National Drill Champions in 2012 – have completed Duke of Edinburgh's Award expeditions in the UK and France, visited RAF bases, been coasteering, helped at community events, parachuted for the Great Western Air Ambulance Charity, had fun on the high ropes, flown gliders and much more.
If you want to become a cadet or are just interested in what the cadets do, then Flight Lieutenant Jim Brimble and the team would be very pleased to meet with you, give you a tour of the unit and answer your questions. The Squadron meets on Wednesday and Friday evenings from 7 – 9.30pm.
For more information, please email oc.2152@aircadets.org
Photo: The 2152 (North Bristol) Squadron Drill Team pictured after winning the South West Region Drill competition in October 2012.