Filton residents are invited to attend a drop-in event to find out more about the next steps in Network Rail's plan to upgrade the railway in the Bristol area, including the construction of a fourth platform at Filton Abbey Wood Station.
The event will take place at Filton Community Centre, Elm Park  (BS34 7PS) on Thursday 15th September, between 5pm and 8pm. Members of the Network Rail project team will be on hand throughout to explain the plans and to answer any questions.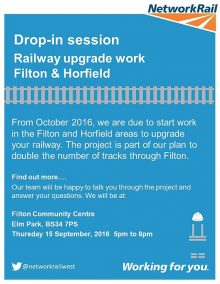 Work is due start next month at Filton Abbey Wood Station and in the neighbouring Horfield Cutting as part of the project to double the number of tracks between Bristol Temple Meads and Bristol Parkway from two to four.
The scheme will allow more trains to operate, reduce journey times and allow for trackside maintenance work to be undertaken without disrupting services, as well as allowing more freight services to operate. It also allows for electrification of the line, which will enable the introduction of a fleet of quieter, greener, faster electric trains.
To accommodate the new trains, a fourth platform will be built at Filton Abbey Wood Station with ramped access to the existing footbridge. To support the embankment, a retaining wall will be built between the new platform and the residential area that backs onto the railway. This phase of the work is due to take a year before Network Rail's 'orange army' will return to extend the three existing platforms and lay the new track.
The work in Horfield cutting will consist of building a 1.25m retaining wall which will in turn provide room for the construction of two additional tracks. This work extends from south of Bonnington Walk Bridge to Filton Abbey Wood Station and is expected to last seven months.
Andy Haynes, Network Rail's project director for the west of England, said:
"The improvement work we are carrying out in the Bristol area is extensive, but essential to bring our railway into the 21st century."

"Everyone is welcome at our drop-in event and I'd urge anyone who wants to know more about our plans or has a question they'd like answered to come along."

"These improvements are much needed and will pave the way for electrification and the benefits this will bring for residents. These include faster trains with more seats and more legroom, and less noise and cleaner air for those who live close to the railway line."
Related link: