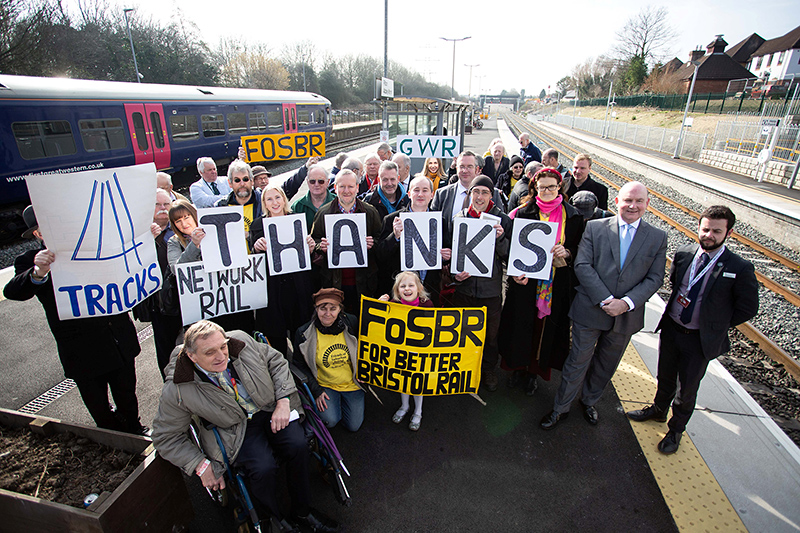 A local railway campaign group has staged an event to mark the completion of a major infrastructure project which will help provide more reliable services for rail passengers travelling to and from local stations in the Bristol North Fringe.
On Friday 22nd February, Friends of Suburban Bristol Railways (FOSBR) held a 'party' on the platform at Filton Abbey Wood Station to celebrate the success of the four-tracking of Filton Bank.
Network Rail completed the bulk of the engineering work in November 2018. The extra two tracks have resulted in a substantial improvement in recent reliability of local services as local stopping services now run on separate lines to the faster intercity services.
At the event, FOSBR chair Rob Dixon thanked Network Rail representatives for their successful delivery of the project Network Rail were represented by Andy Spencer (senior programme manager, West of England) and GWR by John Lanchester (regional stations manager).
Those present shared a 'four-track'-themed cake and sang Morningtown Ride accompanied by a ukulele – "Rocking, rolling, riding, via Abbey Wood, all bound for Temple Meads, not so far away" (with apologies to The Seekers).
Tim Bowles, West of England mayor, attended and said:
"I'm delighted with the new platform at Filton Abbey Wood, which supports my ambitious plans to improve our rail network, including direct services between Severn Beach and Bath, re-opening Henbury station and a brand new station at Portway. I am also working with North Somerset Council on plans to re-open the line to Portishead. I am committed to working with all partners to ensure the West of England has a railway service that is fit for the future."
FOSBR chair Rob Dixon said:
"FOSBR and others campaigned for a long-time for the Filton Bank four-tracks to be re-instated and we are delighted with the success of this Network Rail project. Now, we would like to see an improvement in the frequency of services to local stations from December 2019, eventually leading to a half-hourly and better service to all Bristol local stations."

"FOSBR would also like to see the much-needed capacity improvements at Bristol East junction and the electrification of the Filton Bank to allow trains to travel under electric traction between Bristol Parkway and Bristol Temple Meads."
GWR's operations director Rob Mullen said:
"This vital piece of track work has created a better railway for our customers, up to 30 percent more punctual services on the Severn Beach Line, and in time will allow customers to take advantage of the full benefits of new Intercity Express Trains. Subject to Network Rail timetable approval, later this year we hope to more than double the number of services between Bristol and London."
Tim Ball, chief operating officer for Network Rail's Western route, said:
"This upgrade has already eased congestion on the railway across Bristol and the two new tracks will also allow more frequent services and quicker journeys to be introduced between Bristol and London Paddington later this year."
Photo: Platform gathering at Filton Abbey Wood Station.
A version of this article originally appeared in the March 2019 issue of the Bradley Stoke Journal magazine (on page 15). The magazine is delivered FREE, EVERY MONTH (except August), to ALL 8,700 homes in Bradley Stoke. Phone 01454 300 400 to enquire about advertising or leaflet insertion.