Posted on Thursday 13th September 2018 at 11:16 pm by SH (Editor)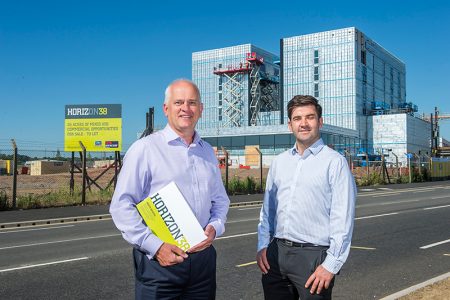 Landmark building on corner of Gipsy Patch Lane and Gloucester Road due to open in November.
As north Bristol's newest hotel nears completion at Horizon 38 in Filton, more deals have been announced at the rapidly developing 60-acre business park, one of the biggest mixed-use schemes of its kind in the country.
The Village Urban Resorts 153-bed hotel, which is located on the corner of the A38 and Gipsy Patch Lane, is quickly becoming a landmark in the area. Seven storeys high, the hotel, which is due to open in November this year, is clearly visible from the A38. The business class hotel will feature a business and events HUB, and a state-of-the-art health and fitness club including swimming pool, bar and restaurant. It is expected to create 100 new jobs for the area.
Paul Hobbs at GVA, joint letting agent with JLL for developers St Francis Group and iSec at Horizon 38 says:
"Village Urban Resorts is a high profile and successful national brand, which we are very pleased to have anchoring the new commercial park within Horizon 38."

"Together with Selco Builders Warehouse, which opened its doors to customers in May, the hotel has without doubt acted as a catalyst for the wider employment and industrial development, with two new occupiers, LSI Workplace Europe, and Motor Parts Direct, the latest to become a part of the business community here."
LSI Workplace Europe, provider of office furniture installation and relocation services, is now open and trading, having relocated from Avonmouth to be a part of Horizon 38. Motor Parts Direct has also chosen Horizon 38 for its latest branch supplying quality car parts to the independent garage industry. Motor Parts Direct is expecting to be trading from its new unit in September.
More: New units aimed at firms in manufacturing and logistics sectors »