Posted on Sunday 19th October 2014 at 11:50 pm by SH (Editor)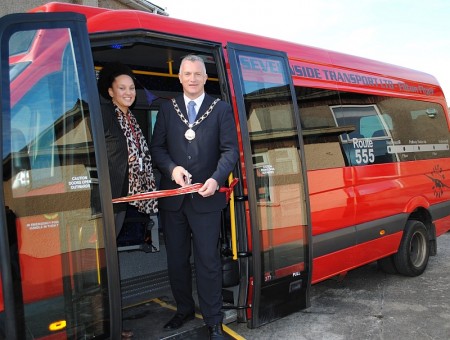 A community bus service designed to benefit residents of Conygre Road and the wider Filton area is to be axed less than 12 months after it was launched with the aid of a £50,000 grant.
The Filton Flyer 555 service, which began operating on Monday 9th December 2013, originally linked areas of Filton with Bristol Parkway Station, Southmead Hospital, South Gloucestershire & Stroud College (formerly Filton College) and the Abbey Wood Shopping Park.
Following complaints that the one-way circular route was leading to excessively long journey times for some passengers, the route was later revised to omit most of the destinations beyond the Filton town boundary.
A report presented to the September meeting of Filton Town Council stated:
"The 555 service will be terminated on 31st October. This decision has not be taken lightly – data has been analysed on a monthly basis. Unfortunately, due to low passenger numbers, the service is financially unsustainable."
To provide continuity of service, Four Towns and Vale Community Transport will be operating a dial-a-ride service to provide transport from the Conygre area to the top of Filton Hill, Sainsbury's (East Filton) and Asda. Residents wishing to use this service will need to dial into the office (01454 868529) at least 24hrs in advance to book a seat.
The vehicle currently running on the route will be absorbed into the Four Towns and Vale Community Transport fleet.
Photo: Cllr Ian Boulton launches the 555 service in December 2013.