Posted on Wednesday 30th January 2019 at 12:04 pm by SH (Editor)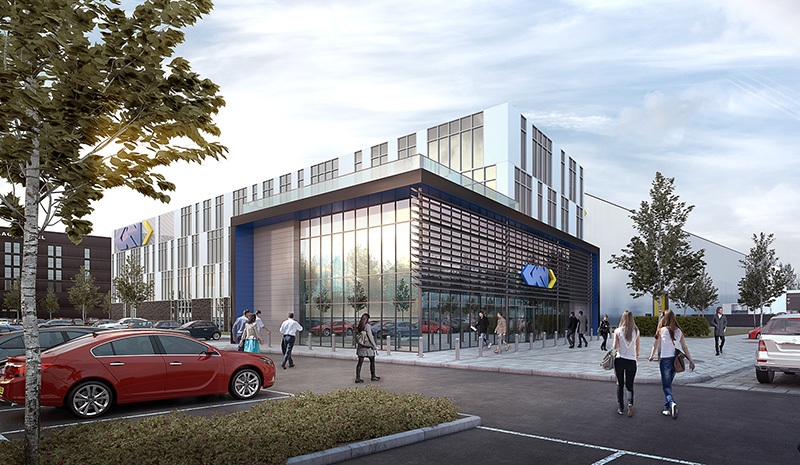 Engineering giant GKN Aerospace has announced plans to build a £32 million research and development facility on the former Rolls-Royce East Works site south of Gipsy Patch Lane.
The Global Technology Centre (GTC) will be built on a plot fronting onto the A38, immediately south of the new Village Hotel which opened it doors in December.
A planning application for the new centre was submitted in November by Horizon 38 developer MSF Filton Ltd, who will lease the building to GKN Aerospace on completion.
Expected to open in 2020, the new centre is funded by a £17m commitment from GKN Aerospace and a £15m commitment from the UK government, through the Aerospace Technology Institute.
Once open, the 10,000sqm facility will host 300 highly skilled engineers, and will include space for collaborative research and development with universities, the UK's Catapult innovation network and GKN Aerospace's UK supply chain.
The centre will focus on additive manufacturing (AM), advanced composites, assembly and industry 4.0 processes to enable the high rate production of aircraft structures. The GTC is intended to help maintain GKN Aerospace's position at the forefront of technology development for the next generation of energy efficient aircraft. The facility will serve as a base for GKN Aerospace's technology partnership in the Airbus 'Wing of Tomorrow' technology programme as well as new additive manufacturing programmes.
GKN Aerospace's chief executive Hans Büthker said:
"GKN can trace its engineering heritage back to the 18th century and we are proud of our role as a leading player in the UK's world leading aerospace sector."

"The GTC will ensure we continue to develop new technologies that deliver for our customers, making aircraft more sustainable and economical. It will also support our 4,000 strong workforce in the UK, ensuring they remain at the cutting edge of the global aerospace industry."
More: Carshop 'used car supermarket' will be a near neighbour of GKN »