Posted on Friday 13th July 2012 at 3:01 pm by SH (Editor)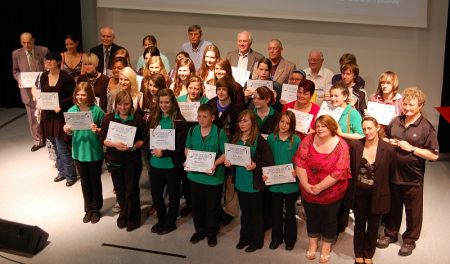 Volunteers working within the Filton community were honoured at an 'Unsung Heroes' awards ceremony held at Abbeywood School earlier this week.
Organised by the Community Lead Group for Filton, the event recognised the hard work, determination and ambition shown by people who dedicate a large part of their life to the local community.
A record number of 147 nominations had been received since entries opened back in April – across the four categories: 'group', 'project', 'individual over 18' and 'individual under 18'.
The winners were presented with their awards by Robert Walsh, Head of Safer, Stronger Communities at South Gloucestershire Council, and Cllr Adam Monk, Chair of Filton Town Council.
The judges reported that they were so impressed with the quality of the entries that they decided to presented every nominee with a certificate of recognition.
Abbeywood Community School students played a big part in the event, with the school's choir, drama group and individual musicians and singers providing entertainment breaks between announcements of the award winners.
And the winners were …
'Project' award: Viewpoint Action Group
'Group' award: Silver Surfers
'Individual over 18' award: Alison Finn (Abbeywood School)
'Individual over 18' award: James Sun (St Andrew's Youth Club)
More photos  from the event on PicasaWeb (The Journal)