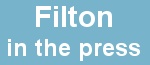 A man arrested by police following reports of suspicious behaviour in Nutfield Grove at the beginning of July has been sentenced to more than three years in jail.
Cassius Adamson, 29, had already racked up more than 50 house burglaries when he was caught breaking into a home and gardens on the evening of 4th July, reports the Bristol Post.
Facing trial at Bristol Crown Court, Adamson also admitted an attempted burglary in Eastville, on the same night as the Filton incident.
Jailing him for three years and four months, Judge Mark Horton said:
"You have a startlingly appalling record. You're 29. You have too much to lose if you continue to run your life this way."
The July arrest came after a resident had alerted police to a man acting suspiciously near an elderly neighbour's home.
Neighbourhood Inspector Bob Evely said at the time:
"This resident did exactly the right thing by calling us. Our advice to anyone who sees anyone acting suspiciously is to call 999 if they think a crime is underway and a suspect still in the area."
Read more: Burglar back in jail after more than 50 raids
Related link: Police in Filton (The Journal)