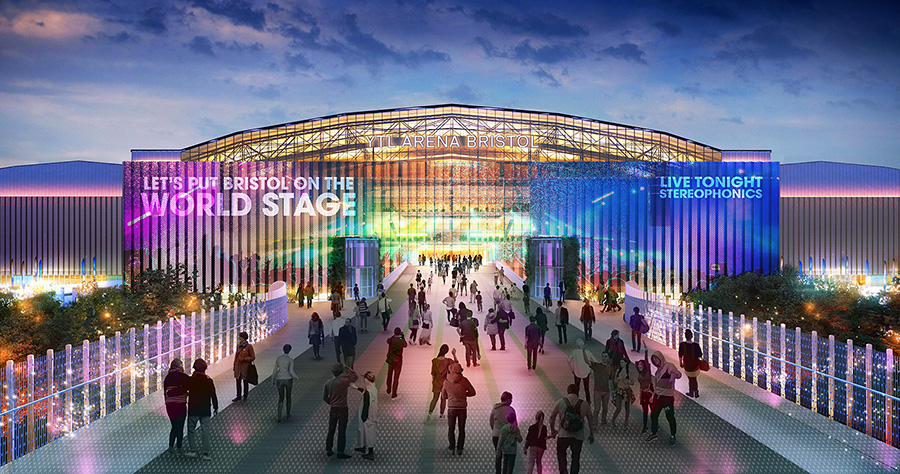 Plans for a new 17,000 capacity concert arena on the former Filton Airfield site have been approved, despite concerns about its potential impacts on traffic congestion.
A suite of four planning applications submitted by YTL Developments (UK) Ltd gained approval from Bristol City Council and South Gloucestershire Council back in March.
Due to the scale and nature of the project, the arena decision was subsequently referred to the secretary of state for housing, communities and local government, who has the option of 'calling in' such applications for determination.
No ministerial 'call in' was announced within the required period, leaving the way clear for the council decision to stand, subject to the signing of an S106 agreement for developer contributions towards local infrastructure and community facilities.
The main element of the scheme involves repurposing the enormous Brabazon Hangars to create a 17,080 capacity arena, with adjoining spaces for exhibitions & conventions, leisure facilities and food and drink outlets.
South Gloucestershire Council has also approved the construction of a pedestrian bridge over the adjacent railway line, the provision of a temporary car park for 2,000 vehicles and highway improvements to allow access for service vehicles.
The development will create the UK's third largest arena after Manchester and the O2 in London.
YTL says it hopes to attract a wide range of events to suit all interests, from music and sport to comedy and family entertainment.
Addressing concerns raised by Highways England that visitors travelling by car could have a "significant impact" on the road network during the evening peak commuter period, Bristol City Council has imposed a condition that arena events must not end between 3.30pm and 6.30pm or start before 8.30pm on weekdays.
Restrictions have also been imposed on the timings of arena events on Saturdays during the football season and for the duration of international cricket fixtures at the County Ground.
Speaking after the Bristol City Council decision on 4th March, YTL Arena Complex managing director Andrew Billingham said:
"We're delighted that the council has entrusted us with this brilliant opportunity to put Bristol on the world stage. It is a huge step forward for our plans."

"We are committed to delivering a venue that everyone can be proud of and that will benefit not just Bristol, but the whole of the wider city region. This decision is a huge step forward in our plans to put Bristol on the world stage!"
A YTL spokesperson added:
"There is a huge amount of work to be done now: with detailed designs and plans expected to take at least six months. This will be followed by a two-year construction phase. The target opening date is early 2023."
Speaking on 9th April, Toby Savage, leader of South Gloucestershire Council, said:
"The secretary of state's decision is hugely welcome as it gives the green light to another wave of private sector investment from YTL into our area and the achievement, finally, of a world-class arena and entertainment complex."
Planning applications:
More information: YTL Arena Bristol
This article originally appeared in the July/August 2020 issue of the Bradley Stoke Journal magazine (on page 32). The magazine is delivered FREE, nine times a year, to ALL 8,700 homes in Bradley Stoke. Phone 01454 300 400 to enquire about advertising or leaflet insertion.